Since 1970 Jan and Phil Enloe have ministered in all of the United States and 48 nations around the world, in every major denomination, as well as, Independent Churches.
Their timeless message and inspirational music appeals to all groups;
(Traditional Congregations, Contemporary Fellowships,
Multi-Cultural Churches, Seniors Adults,
Youth Groups, etc.)
They can be seen on twelve (12) GAITHER HOMECOMING VIDEOS. Their dedication is evident and their ministry fruitful.


Click here to see video of
our Missionary Trip to
KENYA, AFRICA





Jan & Phil Enloe


A Ministry Of
OMEGA SERVICES
---
View THREE "NEW"
MUSIC VIDEOS

by Jan & Phil

1. "I AM THE WORD" Click here

2. "GOD DON'T LEAVE AMERICA TODAY" Click here

3. "OH MY GOD" (or "OMG") Click here
"UNITED NATIONS

"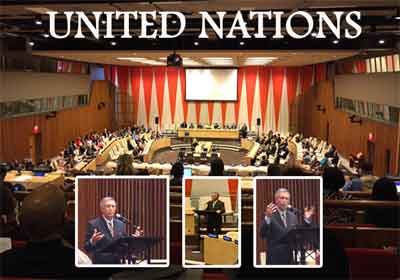 On Friday, April 17, 2015 Phil was invited to speak at the UNITED NATIONS
in New York City and address the "Persecution of Christians". Kevin Jessip of
Global Strategic Alliance arranged and hosted the event that was seen around
the world. To view Phil's speech click on the link below:
"PhilEnloe UnitedNationsHD".
You may also want to view THE COURIERS singing Neil Enloe's award winning
song, "The Cross Is My Statue Of Liberty" at the United Nations event as well
by clicking on the link below:
"TheCouriers UN2015 4HD"
* Introductory AUDIO BROCHURE
available for Pastors, Promoters, Music Directors, Recreation Directors and Special Activity Hosts.
Note
: If you do not have an audio player to support the Audio Brochure you can down load a FREE player that supports multiple formats:

Click here to download: Real Audio Player
---
"VACATIONS with a PURPOSE"
Jan & Phil have hosted "Vacations with a Purpose" for many years. They have taken many people
around the world with a dual purpose, i.e. to travel with other Christians and to be introduced to World Missions.
Not everyone has the Time, Skills or the Ability to go to the mission field as a worker or evangelist,
BUT everyone can participate and support those who have obeyed the Great Commission.
These combination vacation tours are actually "Introductory Level" Mission Journeys that change hearts.
Everyone has a great time at a very reasonable cost and sees, first hand, what God is doing around the world.
Come travel with Jan & Phil to KENYA, AFRICA. We are building an Orphanage for Street Kids whose
parents have died of HIV-AIDS. These beautiful children live in cardboard boxes on the street with no hope.
For these kids we have established a School, a Vocational Training Center and are building Housing on
9 1/2 acres in Nakuru, Kenya. Many people have helped us by donating money and great progress is being
made. For more information contact us via E-Mail: phil@philenbloe.com. You NEVER be the same.
This "Vacation" will be an awesome experience!
Sponsored by
OMEGA SERVICES, Inc.
Mission Statement: Omega Services is an Evangelical Christian based ministry dedicated to the Education and Enabling of Spirit, Soul
and Body of the Impoverished, Underprivileged, Elderly, Children and Afflicted throughout the world regardless of Race, Religion
or Nationality. Omega Services recognizes the urgency of the Needy, as well as, the importance of preparing for a responsible future.
Our purpose, goal and activities exist to Build, Train and Improve the lives of those in Need.
---
| | |
| --- | --- |
| | Bulletin Board We always try to add new pictures of our travels, services, friends and family to our Bulletin Board. So, visit our casual, and very interesting, Bulletin Board just for fun and some up-to-date information about our lives and ministry. Come on over and dig up on the latest with Jan & Phil. |
| | Schedule Our travels take us across the nation and around the world. Come out and see us. If you are interested in us coming to your Church, Camp Meeting, Convention, Concert, Promotion or Special Occasion respond on our Schedule page to any of the AVAILABLE dates listed, fill out the Booking Form and Submit it to our office. We look forward to hearing from you. |

To Schedule JAN and PHIL for a Concert
(Check our "SCHEDULE" for Available dates)

Call Our Florida Office at:
941-493-5200
or E-Mail: Jan & Phil Enloe



© 2001 - Omega Services, Inc.